FREE Advertising and marketing
Find out how you can make your site self promoting for free.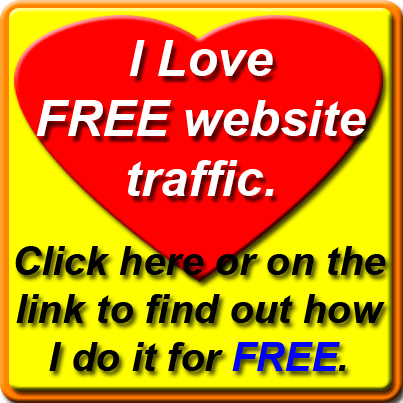 Do you want your own FREE traffic genetator?
Do you have something you would like to promote or share?
Your website.
Your social site.
An affiliate site.
A home business.
Your Youtube site.
A blog.
A Small - Medium Enterprise.
Your goods or services.
or any other web page.
Would you like to be able to do it for FREE?

or

Would you like to start or develop YOUR OWN BUSINESS?
How to promote or share what you have
If you have anything you would like to promote or share (a website, social site, affiliate product etc), there are lots of ways you can advertise or market it; however not all marketing is cost effective even if it is free. One of the main reasons why many free marketing options are not cost effective is the amount of time that is required to use them.

This free traffic generator however is different in that it can be set up in a few minutes and will then run automatically. You can direct traffic to any public web page including your website, social site, affiliate site or any other public page. You can also change the web page your traffic is directed to at any time and even filter the traffic if you wish.
How traffic is generated
All visitors registering via your self-promoting link, and for an additional 5 levels under it, need to visit your site to register. This can bring you huge amounts of free traffic, almost without exception they will be unique visitors. If just 10 people register under you and 10 under each of them for the additional 5 levels you will have received over 1 million free visitors. Your visitors / registrations are automatically generated from your self-promoting link(s) that you can share on social media sites, your websites etc.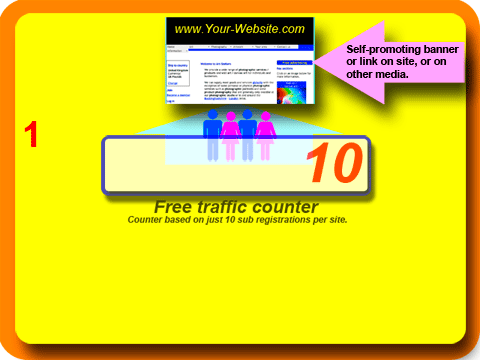 You can learn more below or click here or on the Quick registration button below to get started now.
Watch the video
If you would like to watch the short video on the free viral traffic generator, click on the video play it.
Click here to register or on the 'Quick registration' button below
To use the quicker Facebook App, registration method which only takes a few clicks, click on the 'Quick registration' button below; then login into your Facebook account (or create a free Facebook account if you do not currently have one), and click on the Go to App button in the permissions dialog box when displayed and follow the simple instructions.

Using the Facebook App automatically shares your self-promoting link on Facebook so you do not need to copy and paste it manually.
Use the FREE Viral Traffic Generator if you...
would you like:-
1) To get FREE TRAFFIC to your website AUTOMATICALLY?
2) To earn more MONEY?
3) To MONETIZE your website?
4) To START an Internet business?
5) To increase your PROFITS?
6) To promote your OFF-LINE business?
7) Increase the effectiveness of your advertising?
8) More leads?
9) More likes?
10) To build or expand a contact list?
Will this work for you?
YES
You can promote any personal page, business, website, social site, business profile, blog, forum, affiliate site or MLM program here providing it is ethical and conforms to your terms and conditions.

It is FREE and runs automatically bringing you an on going stream of new visitors, just follow the simple step by step instructions.

In our free business building course we cover how can build your own online income.

If you do not have an online presence (website, social site etc.) yet, we include tips in our free business building course on how you can do this for FREE.

Typical users include:
1) Private individuals
2) Affiliate / MLM marketers
3) Internet businesses.
4) Home businesses
5) SME's Small-Medium enterprises
6) Physical OFF-LINE (bricks & mortar) businesses. Hair dressesrs, Horse riding schools...
7) Charities
8) Bands, entertainers...
9) Social networkers
10) Promoters
11) Trades people: Electricians, plumbers, builders
12) More...
The road to success
While the road to success is not difficult you need to take the first step and follow a plan. To quote Thomas A. Edison

"Many of Life's Failures are people who did not realize how close they were to Success when they gave up!"
Success requires some action so let us get started.
Success starts by having a plan and taking the required actions to follow the plan.
Any business basically needs three things...
1) marketing. We will show you how to make your site go viral for FREE. In our FREE 'Business building course' we provide additional information on how to turbo charge your traffic by intergrating viral and other traffic methods.
2) monetization, to convert visitors into buyers. If you do not have your own products or services to market you can use the free information provided for affiliate marketers or advertisers.
3) order / transaction processing. This is all provided for free for those promoting affiliate programs.
FREE step by step help
We will provide you with step by step instructions on how to make your website, social site, network profile, affiliate marketing go viral and provide you with a free business building course.

Our FREE Business building course includes:-

1) How to make your site go viral.
2) How to turbo charge your traffic.
3) The best way to monetize your website.
4) Where you can find affiliate programs.
5) What you need to do to receive money.
6) Tips on how to increase your profits.
Why start by making your website viral / self promoting?
It is FREE, FREE, FREE.
Increases TRAFFIC, TRAFFIC, TRAFFIC.
Saves MONEY, MONEY, MONEY.
Increases PROFITS, PROFITS, PROFITS. Works automatically 24x7, 24x7, 24x7.
Can I use this if I do NOT have a website?
YES, you can direct your traffic to any public web page including your social site, blog or affiliate site.

Note 1 If you do not currently have a web page to direct traffic to, you can leave the website field empty and set it later. We have step by step instructions on how you can create your own website for free in our free business building course.

Note 2 You can change the website we direct your traffic to at any time in your members area.

How does it work?
Click here to read an overview of the benefits, how it works and how you can save money.
Register your website here
Note, if you have more than one website, submit your first website and then return to add an additional website(s).
Visitors are the KEY to success and making money, from your website, social site, blog or forum.
While there are numerous ways to promote your website or business most require an ongoing investment in either time or money and generally both.

Many forms of paid advertising and so called free advertising are just not cost effective either because there is not sufficient profit margin to cover the advertising costs or it takes too much time relisting for the number of visitors / orders you receive.

Here we are going to focus on free advertising methods that are cost effective for advertising and marketing your website.

Using cost effective advertising / marketing is fundamental to success and making a profit.

Registering your website with the main search engines and making your site self-promoting are two of the most cost effective options available.

Search engines however only work if your website is well ranked for the keywords / phrases that your potential visitors will use. There are a lot of factors that affect a websites ranking on search engines including keywords, content, market competition, incomming links and a lot more.

Making your website self-promoting however directs visitors directly to your website. It only takes a few minutes make your self-promoting and will then progressively generate an increasing traffic flow. We also offer free advice and tips on how to turbo charge your traffic using your self-promoting banners and links.

The following site helped to bring you this opportunity
http://www.Art-Seekers.com
Please report any promoter who includes a link to this site in any spam mail here.
Key benefits
FREE
Increases traffic
Saves money
Increases profits
Works automatically
Free:-

Free registration.
No monthly payments.
No card required.

Free traffic for your:-

Website.
Social site.
Blog.
Affiliate site.
Networking site/profile.
Forum.
or other web page.

Automated

No re-visiting.
No re-posting required.

Quick 3 step set up with Facebook App.

1) Register and activate via Facebook App.
2) Visit 6 sponsors sites.
3) Confirm your registration.

Who can use it:-

Individuals over 18
Home workers
Internet marketers
Small, medium enterprises.
Trades people - plumbers, electricians etc.
Physical businesses - Horse riding schools.
Artists, entertainers etc.
Charities.
and a lot more.

Are there any restrictions

No under age individuals.
No illegal products.
No illegal services.
No un-ethical activities.
No spam mail may be used to share this system.
No undesirable content.
Web pages need to be embeddable.
No pop up / pop under windows.
No web page that creates a system issue.
No web page that is deemed to be unfair.
You need to accept full responsibility for the information you promote.

We do not:-

Sell or share your email address.
We do not send you spam mail.

Traffic control:-

Re-direct to any site at any time
Filter your traffic by country
Change the quantity of traffic at any time.
For more information please refer to the additional information provided.
FREE Bonus
Business building course includes:-.
How to turbo charge your traffic for FREE.
How to intergrate with other marketing.
How to make other forms of traffic generation more cost effective.
How to save on advertising.
How to target your marketing.
How to monetize (make money online) your website.
How to build a contact list.
Tips on how to build a free website.
More...