FREE Advertising and marketing
Find out how you can make your site self promoting for free.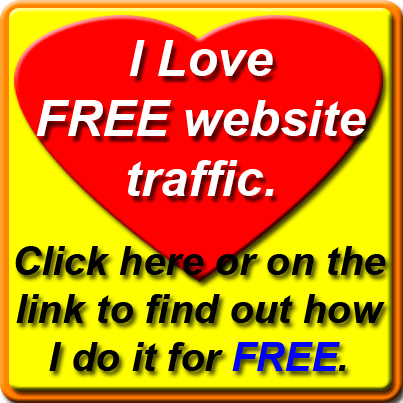 Do you want your own FREE traffic genetator?
Do you have something you would like to promote or share?
Your website.
Your social site.
An affiliate site.
A home business.
Your Youtube site.
A blog.
A Small - Medium Enterprise.
Your goods or services.
or any other web page.
Would you like to be able to do it for FREE?

or

Would you like to start or develop YOUR OWN BUSINESS?
How to promote or share what you have
If you have anything you would like to promote or share (a website, social site, affiliate product etc), there are lots of ways you can advertise or market it; however not all marketing is cost effective even if it is free. One of the main reasons why many free marketing options are not cost effective is the amount of time that is required to use them.

This free traffic generator however is different in that it can be set up in a few minutes and will then run automatically. You can direct traffic to any public web page including your website, social site, affiliate site or any other public page. You can also change the web page your traffic is directed to at any time and even filter the traffic if you wish.
How traffic is generated
All visitors registering via your self-promoting link, and for an additional 5 levels under it, need to visit your site to register. This can bring you huge amounts of free traffic, almost without exception they will be unique visitors. If just 10 people register under you and 10 under each of them for the additional 5 levels you will have received over 1 million free visitors. Your visitors / registrations are automatically generated from your self-promoting link(s) that you can share on social media sites, your websites etc.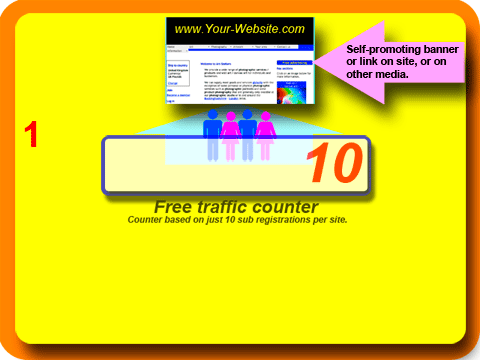 You can learn more below or click here or on the Quick registration button below to get started now.
Watch the video
If you would like to watch the short video on the free viral traffic generator, click on the video play it.
Click here to register or on the 'Quick registration' button below
To use the quicker Facebook App, registration method which only takes a few clicks, click on the 'Quick registration' button below; then login into your Facebook account (or create a free Facebook account if you do not currently have one), and click on the Go to App button in the permissions dialog box when displayed and follow the simple instructions.

Using the Facebook App automatically shares your self-promoting link on Facebook so you do not need to copy and paste it manually.
Use the FREE Viral Traffic Generator if you...
would you like:-
1) To get FREE TRAFFIC to your website AUTOMATICALLY?
2) To earn more MONEY?
3) To MONETIZE your website?
4) To START an Internet business?
5) To increase your PROFITS?
6) To promote your OFF-LINE business?
7) Increase the effectiveness of your advertising?
8) More leads?
9) More likes?
10) To build or expand a contact list?

Register your website here
Note, if you have more than one website, submit your first website and then return to add an additional website(s).
Visitors are the KEY to success and making money, from your website, social site, blog or forum.
While there are numerous ways to promote your website or business most require an ongoing investment in either time or money and generally both.

Many forms of paid advertising and so called free advertising are just not cost effective either because there is not sufficient profit margin to cover the advertising costs or it takes too much time relisting for the number of visitors / orders you receive.

Here we are going to focus on free advertising methods that are cost effective for advertising and marketing your website.

Using cost effective advertising / marketing is fundamental to success and making a profit.

Registering your website with the main search engines and making your site self-promoting are two of the most cost effective options available.

Search engines however only work if your website is well ranked for the keywords / phrases that your potential visitors will use. There are a lot of factors that affect a websites ranking on search engines including keywords, content, market competition, incomming links and a lot more.

Making your website self-promoting however directs visitors directly to your website. It only takes a few minutes make your self-promoting and will then progressively generate an increasing traffic flow. We also offer free advice and tips on how to turbo charge your traffic using your self-promoting banners and links.
Making your website self-promoting will provide you with an ongoing, progressively increasing stream of visitors, for FREE.
Here are some key benefits:-
No setup charges.
No monthly or usage charges.
No re-listing or re-posting.
No PPC (Pay per click) charges.
No PPV (Pay per view) charges.
No junk mail.
No hidden charges for making your site self-promoting.
Works automatically 24x7.
Equal opportunity for all subscribers.
You can reduce or stop your traffic for a period. (Maybe you will be taking a vacation/holiday or cannot keep up with orders.)
You can filter by visitors location.
You can improve the effective click through rate of other advertising by integrating with this.
Automatically build a progressively increasing stream of traffic.
Automatically builds backlinks to your website.
Visitors are automatically directed to your website.
Improve the effectiveness of other advertising and marketing.
Helps to reduce your advertising and marketing costs.
Helps you increase your profits.
Almost without exception each visitor will be a new visitor.
How it works
This is a FREE viral marketing system that anyone can use to promote any public website, social site, business site, blog, forum or web page for FREE, providing it is done within our terms and conditions.

Viral marketing has been used by some of the biggest Internet businesses to build their empires from nothing. An example of this is Yahoo who built their empire by adding a simple line to each email sent by their system offering a free email account. Many other companies now use viral marketing techniques but it has always been a problem for small businesses and individuals who want to promote themselves.

The FREE viral marketing system we have developed allows everyone the opportunity to promote their online site by making it self promoting. You can also intergrate this FREE viral marketing system with other advertising & marketing to increase the overall effectiveness and save costs. As the viral traffic builds up you will also be able to reduce other advertising & marketing methods thus saving even more money.
How many visitors can you get?
Answer: A lot
If just 10 people register under you and 10 register under each of them you can see from the table how your visitor numbers grow. There is nothing stopping you from having more than 10 this is just an example.

There are millions of people like you looking for cost effective marketing.
| Level | Visitors | Total visitors |
| --- | --- | --- |
| 1 | 10 | 10 |
| 2 | 100 | 110 |
| 3 | 1,000 | 1,110 |
| 4 | 10,000 | 11,110 |
| 5 | 100,000 | 111,110 |
| 6 | 1,000,000 | 1,111,110 |
With the exception of the 10 visitors who initially register under directly under you, all the others will in general be new unique visitors to your website. Your visitors numbers will progressively increase as more people register under you and more register under them etc. The self-promoting model will typically create an exponential increase in traffic to a registered site.


Comparing various advertising costs
While advertising costs vary the average costs in 2010 were:-
Type of
advertising
Cost per
thousand
CPC (PPC)
$1240.00
CPM (CPV) adjusted for click through (1)
$1221.00
Search engine traffic (free listing) (2)
$0.00
Self promoting traffic (3)
$0.00
Free advertising (4)
Varies
Word of mouth (5)
Varies
Reference for costs www.hochmanconsultants.com

CPC = Cost per click
PPC = Pay per click
CPM = Cost per thousand impressions
CPV = Cost per view

Notes
1 CPM (CPV) adjusted for click through is based on a CPM of $8.55 and a CTR of 0.7% giving a cost per thousand site visitors of $1240.00.
2 The major search engine does not charge for a free listing. Paid search engine advertising varies and care needs to be taken to ensure it is cost effective.
3 Self promoting traffic is free.
4 So called free advertising is rarely truly free and often requires a substantial amount of ongoing effort for the returns received. If you factor in the cost of your time, so called free advertising is rarely even cost effective.
5) Word of mouth can be effective but often requires a lot of time and effort selling yourself and your business.

How to make your website self promoting using this FREE viral marketing system
There are 4 steps.
Step 1) Enter your website, social site, blog or forum and details below.
Step 2) Visit your 6 sponsors sites. (This only takes a couple of minutes.)
Step 3) Confirm your registration.
Step 4) Activate your self promoting link by displaying it.
Can I reduce the amount of traffic if I get too much?
Yes, if you start to get too much traffic, you can reduce it via your control panel.

Your control panel allows you to reduce, filter or even stop your visitors at any time and re-activate when you are ready. (You may be on holiday for a while or unable to keep up with orders etc.).
FAQ
Can anyone use this system?
Yes, providing they abide by our terms and conditions. This system has been designed so everyone can use it.
Can I register any website, social site, blog or forum page
Yes, you can register any public page. Just register the URL (link) shown in your browser's address bar when you are viewing the page you want to direct traffic to. In very rare cases where a public page includes code to prevent it's display in a window you can register a different page or site that allows this with a link to the website(s) you want to direct traffic to. More information is available from us.
Can I make my site self promoting if I cannot edit it?
Yes, but not directly, we will tell you how to get around this.

NOTE You can use this marketing system even if you cannot directly make the registered site self-promoting however for the best results follow our advice.
Can I benefit from intergrating the self-promoting system with other advertising?
Yes, it can be a Win-Win where you can increase the effectivness of other advertising and build additional self-promoting traffic.

More details on how to do this is provided in our free business building course.
MLM and Affiliate marketers
If you are an MLM (Multi level marketer) or affiliate marketer with a promotional page/website that you want to promote but that you cannot edit, see 'Solutions' below.
I have my own website but cannot edit it.
If your website was written by someone else, they should be able to add the link to make it self-promoting. If for some reason this is not possible see solutions below.
Solutions
If you cannot edit your website, you can set up one of more of the following:-
A free website
A paid website
A social site(s)
A blog
If you are promoting multiple revenue streams or websites we would suggest that you set up a seperate website that you can edit and use this to promote all your sites / revenue streams.

We suggest that you add your self-promoting link to all the sites you can as the more places you add it the quicker your traffic will increase.
I have more than one site, which should I register
You can register multiple websites and drive traffic to them individually.

Another option is to have one site (lets call it your main marketing site / page) (that you control and can edit) that promotes (links to) all your other sites / revenue streams and you register this. There is a good reason if you have multiple sites for having a main marketing site /page; firstly customers will see all the things you promote and can click on any of interest. Secondly if an affilliate program or other revenue stream is discontinued you can simply remove / change it for a new one on your main marketing site / page. Having a main marketing site / page also makes it easy to add new sites / revenue streams at any time.

While the choice is yours you may find having one main marketing site / page and driving all the traffic through it easier. You can change the website your traffic is directed to from your control panel.
Can I change the registered website?
Yes, you can change your registered website, title and even reduce your traffic if required from your control panel. You could even potentially sell the traffic stream to someone else if you no longer need it.

We will direct all your traffic to the registered website.
Terms & conditions and restrictions
You may not promote anything that is illegal, unethical or deemed to be undesirable. Violate this and your registration will be terminated.

You are not allowed to include your self-promoting link in spam mail or any other system or operation that is regarded as spamming. You can include your self-promoting link in emails where list members have double opted in to receive emails from you or from your personal contacts. Any email should clearly state you are the sender. We provide plenty of ethical ways for you to publish your self-promoting link in our free business building course.

The webite being promoted is not allowed to include automatic pop over windows / pop under windows or any other coding that may affect the operation of this system or be deemed as unfair to other users. You can always create a seperate web page on your website or setup a seperate website that will promote your goods services or information without these features. You can include list building forms if included on the page.

You are not allowed to charge anyone for the use of this system. You may however offer it as a free give away with your product / service sales.

If you fail to comply with our terms and conditions your registration will be terminated.
Will I get spammed if I register?
NO This system only directs visitors to your website. Your email address is not shared with others or displayed.
The following site helped to bring you this opportunity
http://www.Art-Seekers.com
Please report any promoter who includes a link to this site in any spam mail here.
Key benefits
FREE
Increases traffic
Saves money
Increases profits
Works automatically
Free:-

Free registration.
No monthly payments.
No card required.

Free traffic for your:-

Website.
Social site.
Blog.
Affiliate site.
Networking site/profile.
Forum.
or other web page.

Automated

No re-visiting.
No re-posting required.

Quick 3 step set up with Facebook App.

1) Register and activate via Facebook App.
2) Visit 6 sponsors sites.
3) Confirm your registration.

Who can use it:-

Individuals over 18
Home workers
Internet marketers
Small, medium enterprises.
Trades people - plumbers, electricians etc.
Physical businesses - Horse riding schools.
Artists, entertainers etc.
Charities.
and a lot more.

Are there any restrictions

No under age individuals.
No illegal products.
No illegal services.
No un-ethical activities.
No spam mail may be used to share this system.
No undesirable content.
Web pages need to be embeddable.
No pop up / pop under windows.
No web page that creates a system issue.
No web page that is deemed to be unfair.
You need to accept full responsibility for the information you promote.

We do not:-

Sell or share your email address.
We do not send you spam mail.

Traffic control:-

Re-direct to any site at any time
Filter your traffic by country
Change the quantity of traffic at any time.
For more information please refer to the additional information provided.
FREE Bonus
Business building course includes:-.
How to turbo charge your traffic for FREE.
How to intergrate with other marketing.
How to make other forms of traffic generation more cost effective.
How to save on advertising.
How to target your marketing.
How to monetize (make money online) your website.
How to build a contact list.
Tips on how to build a free website.
More...