How to make money online
While there and numerous ways to make money online the primary methods are:-
1) Selling your own products and/or services
2) Selling other peoples products and/or services (Affiliate marketing)
3) Selling advertising space
4) Selling leads
5) Get paid for your opinions
6) A combination of the above
1) Selling your own products and/or services
If you have your own products or are able to provide a service you can market them online. This can be profitable and you get to keep 100% of the profits. If you do not have your own products or services you can create them however this often requires time, effort and sometimes additional resources such as money.
2) Affiliate marketing
With affiliate marketing you receive a commission when you help market other peoples products or services. In general the percentage you receive is in the order or 40 to 80 percent of the sales price. In some cases you will receive not only a percentage of the initial sale also a commission on any additionl sales (including up sells) and ongoing sales (typically monthly subscriptions).
3) Selling advertising space
The easiest way to sell advertising space is to register with somewhere like Google or Amazon, and display their marketing material on your website. You will then receive money based on either the number of advert views or the number of clicks or somtimes a percentage of the order value. The PPV (Pay per view) rates are typically very low so unless you have a huge amount of traffic you will not receive much from PPV. PPC / PPA (Pay per click / action) pays a higher rate for each click but as the number of clicks is only generally a few percent of the views, the net effect is that the income will be relatively low unless you have a huge amount of traffic.

Another option is to display private advertising. While you can expect to get a bit more you still need to be competitive so the income will again be limited. Unlike using Google or Amazon advertising you need to set up your website to manage the views or clicks, which is why this is not normally a viable option for must website owners.
4) Selling leads
To sell leads you need to find someone who is willing to buy your leads which often need to be targeted. If you have a website related to the target niche you may be able to just direct visitors to your lead buyer or you can advertise to find suitable leads and for them. Some businesses are prepared to pay a reasonable amount for leads.
5) Get paid for your opinions
There are various ways to make money from your opionions. You can complete surveys, give your opinions on social sites, review products etc.

This option is more like a regular job where you simply get paid for the work you do. A great benefit is that you do not need any money to start all you do is to register and complete the tasks provided.

To get started click here or on the image below for more information.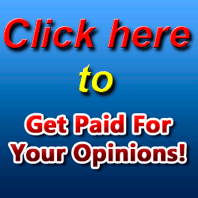 So which is the best option?
It depends

In general selling your own products and affiliate marketing are the higher earners. Selling advertising space and leads are typically relatively low earners in comparison. Focusing on high earners is obviously the best plan to generate a reasonable income but you can use a mixture if you wish.

If you have your own products or services to market then it would make sense for this to be part of your Internet Business plan if they are suitable for Internet marketing. Even if you market your own products/services adding some affiliate marketing normally has major advantages as it increases the number of your income streams (sources/places paying you).

As most people who are looking to earn an income on the Internet do NOT have their own products/services ready to market, affiliate marketing is the quickest and easiest way to generate a reasonable income. An alternative is to get paid for your opinions click here for more information on getting paid for your opinions.
What do you need to start, affiliate marketing?
Unlike a normal physical (Bricks and Mortar business) you only need a few things to start a business marketing affiliate products. Typically the product creators will provide you with/do:-
Advertising material
A conversion process to convert visitors into buyers.
Order processing to accept payments.
Product delivery to ship/deliver the products to the customer
Product support to answer any customer queries/issues
Order refunds where a customer returns a product or cancells an order
With all of this done for you; you are essentially left with just 3 key things to do:-
1) Find suitable products to market
2) Register as an affiliate to market the selected products
3) Use the advertising material to market the product(s)
You also need to have an account to receive your payments, in most cases this could be an online bank like Paypal.com where you can set up a free account or your own bank if being paid by cheque.

There are thousands of products you can select to market. ClickBank.com is one of the largest sites where you can find some 30,000 products, but there are a number of other sites with affiliate products you can market. The problem is not finding a product you could market but selecting a good product from all of the options available.

Some of the factors that will affect the best affiliate products for you to market are:-
Affiliate commissions, how much you will make
Is there an up sell, do you get commissions on other products that may be sold to your buyer
Are there any recurring commissions, an ongoing subscription
Is the product in demand
Is it a goog quality (value for money) product.
Does the product have a low return rate
Is it a product you would like to market
Is marketing material supplied
Is any follow up material supplied
What is the conversion rate. What percentage interested parties buy
How easy is it to advertise
How much competition is there for the product
It can be an advantage to market procucts you are interested in
Other
Why do so many people fail at Internet Marketing?
The most common reasons are:-
1) Lack of effort like any business you need to take it seriously and put the effort in to make it work.
2) Failing to follow / implement a plan. It is better to copy a plan that works.
3) Giving up too early. Failure is easy, success requires effort but the rewards can be huge.
4) Little or no advertising. Like any business you need to advertise / market.
5) Advertising in the wrong place. You need to advertise where your potential customers go.
6) Using advertising that is not cost effective. Any advertising needs to generate a positive benefit.
7) Picking the wrong products to market.
8) Using poor marketing material If the advertising material provided is not working you could make your own if the product warrents it.
9) Marketing a product that does not have a good conversion rate.
10) Marketing a product that has a high return rate.
11) Not following up with potential customers.
12) Not running your business efficently. You need to use methods that will increase your profits.
13) Not using a contact list.
14) Lack of focus. Changing from one internet marketing plan to another without getting anything to work.
So what is are the most common reasons for failure, that is simple numbers 1,2 and 3 above. They are all under your control. If you follow a plan that works all the other items will already have been tried and tested, you just need to follow the instructions.
Let us look at those key reasons for failure
Lack of effort
If you want to generate an additional income stream either to suplement your current income or as a main source of income you need to put in the effort to make it work.

It is strange that some people will go to work 5 or more days a week; work their buts off for little return but given the opportunity to earn potentially more than a paid job they expect have money flowing in without doing anything.

If you listen to any of the honest experts they will tell you that they had to work to acheive their results. They will tell you that it took effort and trial and error. The advantage you now have is that some of them will share what they have learnt so you can get started quickly and easily; just by following a tried and tested plan.

Failing to follow a plan.
We all know the wheel has been invented. Internet marketing has also been invented/created. While the wheel may be modified for a particular application fundamentally it is still round and rotates around it's center. Internet marketing is very similar it may need to be modified a bit but the basic principals remain the same.

By way of an example let is look at a Bricks and Mortar business that has spread globally. Anyone buying a franchise in this business is given a business plan. This includes everything they need to succeed. In this case like many other franchises they are not just given a plan it is part of the franchise contract that has to be followed. Even the decor is prescribed so it is recognised globally, the products sold are also controlled. If the owner was not to follow the plan, and thought by leaving out the meat in the hamburgers that 20c per burger could be saved, what would happen? They would get a lot of complaints, very unhappy customers and would go out of business. Why, they were not following the plan that works.

If you DO NOT FOLLOW a viable plan you are doomed to failure.

Giving up too early
Like any business you will need to set it up before you can expect to earn anything. The quicker you get it set up, the quicker you can start to make a profit.
Knowedge is key
As you can see above you need to know how to select suitable products (ones that will sell well and make you a reasonable profit), you also need to know where to market them cost effectively.

All the experts will tell you the money is in the list. What this means is that you should create a contact list of every one who registers an interest in your products. It is possible that they may not buy when they first see your marketing material and sending them some additional information after a short period may convert them into a customer. You can also suggest other products that they may be interested in. You could send then a regular newsletter that could contain usefull information.

You can automate building a contact list so that it is automatically created from your marketing material. It can send out automated follow ups and you can send out newsletters. You need to ensure you comply with the law and include an unsubscribe facility so that people can be removed from your list. It is best if they can do this themselves automatically as this avoids a possible headache for you. There are a number of companies who can manage this all for you.

While you can run an Internet business without your own website there are a number of benefits of having your own and I do recommend you have one that you can update. There are even some that you can get preloaded with affiliate products ready to go for free (you do however need to buy hosting and a website name).
Multiple income streams
This is a very important issue. Having only one product to sell is not a good long term plan. While you can start with one income stream if you want to have a more reliable (on going) income it is best to offer a number of products; generating multiple income streams (do not have all your eggs in one basket).

Can you imagine if all shops (even super stores) where to just stock one product. What would it do to their sales figures? Shops know that they need to offer a range of products. If a shop only sold one type of bread; firstly they would not get many people through the door (shoppers like a choice, they want different things, they have personal preferences) and secondly the value of each customer would be very low. Most businesses would go out of business very quickly if they offered just one product. On the Internet it is possible to market just one item but there are still significant benefits in marketing multiple products.

When starting out, there are benefits of starting in a particular niche and developing a range of offerings around this niche. This will help you to generate more income from your marketing. If you view a product on Amazon you will see they provide additional items that are linked to it (Buyers of this item also bought these items) or package deals. As your business grows you can look a more diverse range of offerings (like the super stores).

Just like a shop you will need to look at changing your offerings over time. Like any business your business will be affected by changing trends, the release of new products and products that are discontinued. Advertising and marketing costs and methods will also effect the viability of marketing a particular product.
Are there any short cuts?
YES, there are short cuts you can use that will do all the hard work for you and avoid the often painful learning curve if you try to do it yourself. Using a short cut to success is ideal for both newbies and anyone who wants to get started quickly, or has either failed before or wants use a working plan. The short cut below is a working plan that others are using to make money online so you stand a very good chance of success if you follow the advise provided (the plan).

These short cuts do require a small financial investment for hosting and setting up the income streams but it is well worth it if it gets you started earning a good online income. There are start up costs and running costs with any business and some effort is required especially to start. Once you are up and running making a profit you only need to follow a maintenance plan that will keep your business going. One key advantage of being an Internet Marketer is that the amount of time required to maintain your business is relatively low in comparison to 9 to 5 jobs and the rewards can be high.

One of the key issues is to use a plan that is known to work and stick with it. Do not re-invent the wheel or try your own short cuts like taking out the "meat out of the hamburger". Stick to what is known to work.

The following short cut will take you through all the steps you require to get started.

This short cut system will lead you through setting up six income streams that are known to generate a good income, create a free marketing website for you (you do however need to pay for the name and website hosting which is not much), set up your own list builder, set up your own preloaded autoresponder, provide you with the marketing material you need, show you how to easily find customers and much more.

As everything is under your control you can even add new products (income streams) if you wish at any time.
Can I do it on my own?
Yes, you can try to select your own selection of good products to market, find suitable places to advertise your selected products, work out how to set up and build your own contact list, set up your own autoresponder etc. etc. The problem in doing everything yourself is that you will not have a proven plan to follow. The vast majority of people who try to do everything to themselves do not make it. This is not to say it cannot be done, just that this is not as easy as it sounds; the learing curve can be painfull, slow and expensive. Like most things the devil is in the detail and unless you have a full understanding of Internet marketing you are liable to fail as the odds are stacked against you.

If you are starting out or need a plan that works, start with a plan that is known to work and build up from there.

While we hope that the information has been of help to you; we appreciate that everyone´s requirements are different and invite you to view our Frequently asked questions or contact us if you have questions about this website.